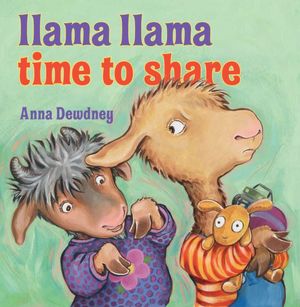 We had such an exciting day yesterday!! We got to meet author Anna Dewdney! For those of you who are not familiar with Llama Llama, it's time to get on board! Llama Llama is a little preschooler experiencing things very relatable to our little ones! In Dewdney's latest book in the series,
Llama Llama Time to Share
, a new neighbor comes over to play. Llama Llama is not sure he wants to share his fuzzy llama. Wait til you see what happens to the poor dolly llama! An important lesson is learned by all about sharing and friendship.
Who are they for?
These books are perfect for toddlers and preschoolers. They serve as great conversation starters to various situations regarding sharing, illness and separation anxiety.
Check out our pictures from our visit with Anna Dewdney. She spoke at our local Wegmans store and the girls had a blast. Their favorite part of the afternoon was watching Dewdney draw right before our eyes, a sketch of Llama Llama. All of my pictures of her drawings came out blurry...boo. The girls couldn't believe how fast she drew and how awesome Llama Llama looked! Along with her new book about sharing, she also read her first Llama book,
Llama Llama Red Pajama
. Anna Dewdney was absolutely delightful and I love the Llama Llama series even more now after meeting her! Check out
llamallamabooks.com
for more information about Dewdney and her books!