It's always a great idea to establish rules as a class in the beginning of the year. Creating rules together helps with the creation of a respectful community, helps kids to develop pride in their environment and a sense of belonging. Here are some great books to use to introduce the importance of rules in any given environment. Check 'em out!
If Everybody Did
, by Jo Ann Stover, through the use of simple, yet hilarious artwork, helps students to see how each and every action causes a reaction. This helps students to understand that their choices really do effect everyone is some way, shape or form.

Never spit on your shoes
, by Denys Cazet, again, offers a funny little tale of a first grader's first day of school. Through all the chaos, they do manage to create some rules for the classroom. Never spit on your shoes! That's an important one!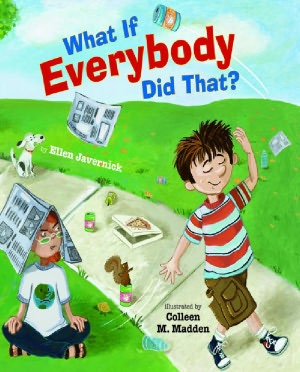 What If Everybody Did That?
, by Ellen Javernick, is another funny little story that helps us to realize the importance of rules. If everybody didn't follow rules, we would have lots of big messes on our hands. What a great way to lead into a conversation about rules in the classroom or home.
Tips for creating rules in the classroom:
1. Always create rules together. It helps to create a community in the home or classroom and gives kids a sense of responsibility and belonging.
2. Create positive rules. Stating a rule like, "Always put your trash in the trashcan" is better than "Never throw trash on the floor." By stating it in a positive way, you are reinforcing what you want the child to actually do, rather than stating what you don't want to happen. This way, there is no question about expectations.
3. Limit the number of rules to a manageable number. If you get carried away, they won't be as effective. Think about the things that are most important.