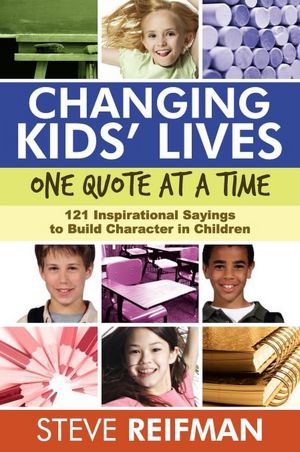 As the school year approaches, I'm constantly looking for fun ideas to add to our family routine. I hate that summer is coming to an end, but I must say that I am looking forward to a predictable schedule once again. This year, think about adding inspirational quotes to your daily regimen. Steve Reifman's book,
Changing Kids' Lives One Quote At A Time: 121 Inspirational Sayings To Build Character In Children
is a wonderful resource for enriching your children's or student's lives on so many levels. This book includes 121 inspirational sayings to help build character in children. Reifman organizes the quotes in such a way that makes it easy to spur dialogue at the dinner table or in the classroom. Each quote is followed by one word that best describes its meaning. Reifman then follows through with various talking points inspiring improved social skills, higher level thinking and positive attitudes towards school, work and life events.
In the classroom:
1. Use the quotes in your morning meetings to prompt discussion.
2. Encourage dialogue between students with a think pair share activity upon reading a quote.
3. Tie a quote into your teaching plans by pointing out various vocabulary words, poetic components or metaphors.
4. Have your students create a response in their journal pertaining to the quote (Reifman shares journal prompt questions in his book).
In your home:
1.Share quotes at dinner time to discuss thoughts about any given topic.
2. Inspire your children to have a positive influence on life by sharing a quote at bedtime or before school.
I'm loving this idea and can't wait to share these quotes with my little ones! How will you use Reifman's book in your home or classroom?
Disclaimer: I received an E-book file from the author/publisher of this book free of charge. As always, all thoughts are my own.