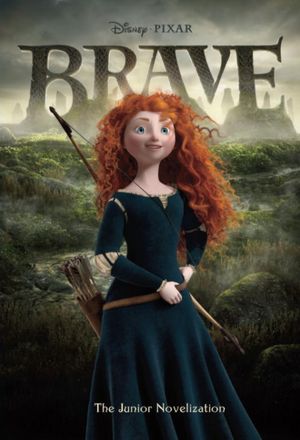 June 22nd is the big day for Disney Pixar's movie, BRAVE. We're gearing up for the big event in our house with a copy of
Brave Junior Novelization (Disney/Pixar Brave)
! It's a 120 page chapter book, wonderful for bedtime reading and excitement about the upcoming movie. Princess Merida is a young girl from Scotland, with a mind of her own. She doesn't quite fall into the pretty princess category and is determined to fight for what SHE believes in..not her mother wants for her. However, her defiance causes a kingdom wide disaster that she is forced to fight for her family's safety. She discovers the true meaning of BRAVE. We are enjoying the chapter book thus far and are even more excited to watch the pages come to life in June!
Who's it for?
This book is perfect for the middle grade student, ages 8-10. It is also a perfect read aloud for the younger crowd.
Don't forget to check out these books about BRAVE as well! Here's an early chapter book for the younger grades and a easy reader for your new readers, as well!