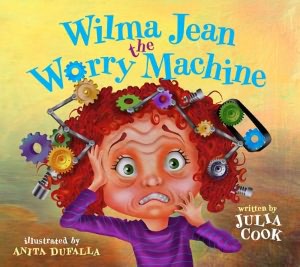 It's state testing time. We as parents and educators know what that means!! Anxiety, stress and exhaustion. Teachers, parents and students worry about how hard the test will be, if they're prepared and if they'll finish in the time given. It's easy to get carried away with this anxiety, making it very difficult to concentrate. Julia Cook's book,
Wilma Jean the Worry Machine
introduces us to Wilma Jean. She is a worry machine! She worries about tests, the weather, gym class. You name it, she's worrying. With all of the what ifs, Wilma's mom begins to get concerned and decides to take her to someone who can help. The book then takes Wilma Jean through a simple lesson, unveiling a wonderful way to manage worries. After going through this simple lesson, Wilma Jean feels much better about her anxiety. It turns out, there are a lot of things that she can control! Looks like she'll be saying good-bye to her worry flu for a while!
Don't forget to take a peek at the last page of the book, as it lists a bunch of useful tips for dealing with an anxious child. Anxiety is a serious illness, not to be taken lightly.
Who's it For?
This book is an excellent read aloud for the early and middle grade children. It is also a wonderful way to spark a discussion about anxiety with a struggling child.
Lesson Plans/Activities:
1. As a class, discuss all of your worries and categorize them into worries that you can control and ones that you cannot control. Discuss strategies and role play different ways to curb anxiety, such as planning ahead and identifying "safe" friends and adults.
Disclosure: I received this book from the author/publisher. All of my opinions are my own.